Kiddie Birthday Party Packages
---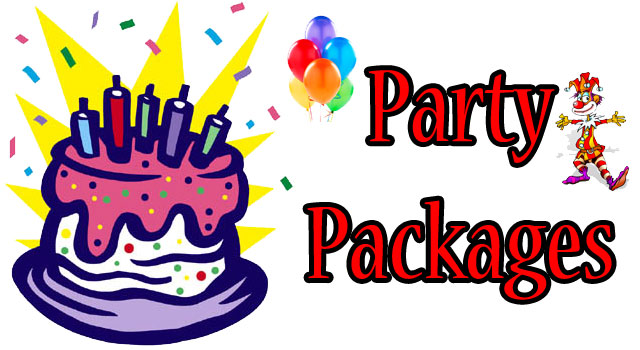 Below are our standard Birthday Party Packages which will surely fit your budget. If you think you do not need some of the items in the Birthday Party Packages below, we can replace it for you.
We have toys, party favors, gift items, souvenirs which your guests will surely love. Our Clown Host will be the one to organize and facilitate the games but you will be the one to provide the prizes. Make sure you have prizes for both kids and adults because our Clowns will surely include the parents in the fun games.
Our birthday party packages sparkles like a diamond but cost very less! We consider it as the most affordable and value for money. It includes all the necessary items for a fun and unforgettable birthday party event for your son or daughter. These packages can also fit a Christening or Debut celebration.
Take note that we can customize these birthday packages according to your needs and budget. We can give you a quotation which already includes the items in the loot bags. Note that our loot bags below does not contain goodies because most of the parents opt to buy the goodies or items on their own – but we can also do it for you. We can put candies and junk foods inside that party favors which costs less compared to putting toys, school supplies and other useful items.
If you have some questions and clarifications with our Birthday Party Packages, please do not hesitate to contact us and we will be glad to help you make your child's natal day celebration an exciting event.
**Note: All loot bags does not contain goodies. If you want to avoid the hassles and allow us to add items to your loot bags, it only costs P60/each. We can also customize the contents based on the customers budget.
Party Package A (P600)
30 Balloons on Stick (or 3 Centerpieces)
30 Party Hats
30 Theme Invitation Cards
1 Pre-made Theme Banner
*P50/additional child
Party Package B (1,300)
30 Balloons on Stick (or 3 Centerpieces)
30 Party Hats
30 Invitation Cards (Personalized)
1 Tarpaulin 3ft x 2ft (Personalized)
*P60/additional child
Party Package C (P1,500)
30 Balloons on Stick (or 3 Centerpieces)
30 Party Hats
30 Loot Bags**
30 Theme Invitation Cards
30 Name Tags
1 Piñata
3 Packs Candy for Piñata
1 Pre-made Theme Banner
2 Party Poppers
1 Pabitin with Toys
*P70/additional child
Party Package D (P2,800)
30 Balloons on Stick (or 3 Centerpieces)
30 Party Hats
30 Loot Bags**
30 Invitation Cards (Personalized)
30 Name Tags
1 Piñata
4 Packs Candy for Piñata
1 Tarpaulin 4ft x 3ft (Personalized)
2 Party Poppers
1 Pabitin with Toys
*P80/additional child
Party Package E (P3,100)
30 Balloons on Stick (or 3 Centerpieces)
30 Party Hats
30 Loot Bags**
30 Theme Invitation Cards
30 Name Tags
1 Piñata
5 Packs Candy for Piñata
1 Pre-made Theme Banner
2 Party Poppers
1 Pabitin with Toys
1 Ice Cream in Tube
*P80/additional child
Party Package F (P4,500)
30 Balloons on Stick (or 3 Centerpieces)
30 Party Hats
30 Loot Bags**
30 Invitation Cards (Personalized)
30 Name Tags
1 Piñata
6 Packs Candy for Piñata
1 Tarpaulin 5ft x 4ft (Personalized)
2 Party Poppers
1 Pabitin with Toys
1 Ice Cream in Tube
*P90/additional child
Party Package G (P5,200)
1 Clown Host (from Start to Finish of Kids Party)
1 Balloon Twister (30 balloon designs, by Clown)
30 Balloons on Stick (or 3 Centerpieces)
30 Party Hats
30 Loot Bags**
30 Theme Invitation Cards
30 Name Tags
1 Piñata
5 Packs Candy for Piñata
1 Tarpaulin 4ft x 3ft (Personalized)
2 Party Poppers
1 Pabitin with Toys
1 Ice Cream in Tube
*P90/additional child
Party Package H (P6,300)
1 Clown Host (from Start to Finish of Kids Party)
1 Balloon Twister (30 balloon designs, by Clown)
30 Balloons on Stick
30 Party Hats
30 Loot Bags**
30 Invitation Cards (Personalized)
30 Name Tags
1 Piñata
6 Packs Candy for Piñata
1 Tarpaulin 5ft x 4ft (Personalized)
2 Party Poppers
1 Pabitin with Toys
1 Ice Cream in Tube
*P120/additional child
We can customize your kiddie party according to the theme you want. We have a wide-variety of cartoon character themes that your child will surely love.

For the personalized items, such as tarpaulin design, invitation cards and name tags, kindly provide a photo of the celebrant and tell us the theme you want for the design.










This page is last updated on